BELT, waist, adjustable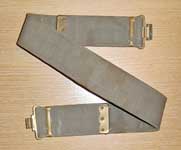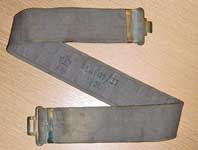 The Pattern 1925  Belt, waist, adjustable was introduced with the Web Equipment, R.A.F., Pattern 1925, under Air Ministry Weekly Order No. 793/1927, as Stores Ref. 23/74. Within the British Armed Forces this was the first authorisation of such an item. Previous field equipments from Knapsack Equipment, through Valise Equipment, to Bandolier Equipment and Patt.'08 W.E. all had separate Waistbelts.
In Drill Order, it was often preferable to have a Belt and Bayonet frog alone. In addition, when British soldiers were Walking Out, i.e. off camp and in public, Belts and bayonets were always worn and a "swagger stick" was usually carried, so that hands were not idle! Patt. '13 W.E. was a Back-Adjustment pattern, the "belt", such as it was, comprised an unsuitable three elements. The Canadian Army were therefore the first to add a requirement for a proper Belt, in their case termed a Belt, walking-out.
When the R.A.F. adopted Patt. '25, another Back-Adjustment pattern, the same problem existed – no proper Belt for drill and ceremonial. The Patt. '13 Belt was a simple length of strapping, with a 2-inch Twigg buckle, whereas the R.A.F. solution was more complicated. It was made from Mills' patented "flat-loop belting", thereby adjusting at the front with turn-backs. This was not new, having first been used on the belts of Mills' Cavalry Trials patterns of 1912 and 1913. Unlike the Patt. '37 W.E. Belt, adopted 17 years later by the R.A.F., the Patt. '25 Belt had no back buckles.
In 1941, blue-grey Patt. '37 was approved for the R.A.F.. Many components were interchangeable with Patt. '25, such that the R.A.F. then blurred the distinction by combining both patterns as Equipment, web, blue-grey, R.A.F. Pattern, under which the belt nomenclature was changed to Belt, waist, ceremonial, adjustable. Back buckles were added to the Patt. '25 belts, converting them to Patt. '37. Manufacture of most Patt. '25 items ceased after 1941, so the old Patt. '25 format was achieved by removing the back buckles from Patt. '37 Belts.
This example has no maker's name, but is marked with a Contract Number, "716101/37", the date "1938" and the usual Crowned A.M. ownership mark. This Belt is from the Collection of Roger Dennis. Phot0 © Roger Dennis 2008.