Stores Ref. A1/AA 0611 Case, binocular, W.E. Patt. '37 Updated!
Stores Ref. CN/AA 0611 Web Equipment, Patt. '37, Case, binocular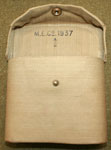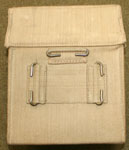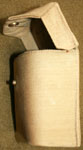 The Case, binocular, W.E. Patt. '37 was yet another old design, this stemming from later production standard of the Web Equipment for Officers (W.E.O.), where the simple flap lid was changed to a box lid. Where the W.E.O. used Binocular cases stitched to Compass pockets, Patt. '37 borrowed from Web Equipment, Royal Artillery (W.E., R.A.), where these two items were made separately and connected by a brass "C" clip, stitched transversely above the two belt hooks. W.E.O. provided a number of different sizes of Case, but Patt. '37 was designed solely for the Binocular, prismatic, No. 2, an 8 x 30 design. There was an inner and outer layer of thin webbing, between which was a fibreboard stiffener. The example shown here is maker marked "M.E. Co." and dated 1937. The photo below right below shows Canadian officers in training (or at least posing for the camera), wearing W.E. Patt. '37 Officers' Web Equipment. Both variations of the Binocular case are visible. From the Steve Britton Collection, photographs © Steve Britton 2019.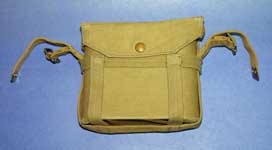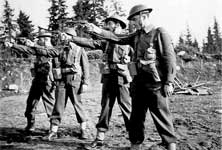 List of Changes entry No. L. of C. §B4510 (date t.b.d.) provided a rather pointless bit of "gold-plating". It introduced a Carrier, Case, binocular, W.E. Patt. '37, which is slightly misleading, as it should have read Carrier, for Case, binocular, W.E. Patt. '37. As the Carrier was not part of Patt. '37, it is described under Associated Equipment. Shown left is another first issue Binocular case, this time in its Carrier. This example is from the Ed Storey Collection, photograph © Ed Storey 2007.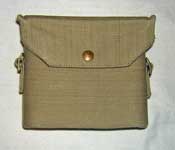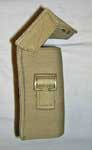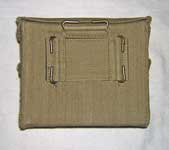 When common sense prevailed, A.C.I. 580/1941 provided for a modification to existing Cases, with new production being made to the modified standard. A pair of 1-inch buckles and chapes were riveted to the case body, one on each side, which allowed a Brace to be used as a sling. The A.C.I. added that officers could indent for an additional Brace, right, long, W.E. Patt. '37 to save dismantling their web sets. A.C.I. 899/1941 authorised one Brace, right, long for each modified Case held as unit equipment. Manufacture thereafter was always with the side buckles.The second issue Case shown here, with 1-inch side buckles, is maker marked "M.E. Co." and dated 1941. From the Karkee Web Collection.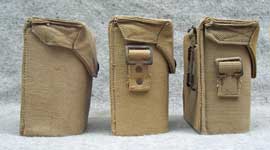 Three different versions of the Case, binocular, W.E. Patt. '37. At far left is the first issue Case without side buckles and chapes. The Case at center left has 1-inch buckles and chapes riveted to the case body as specified in A.C.I. 580/1941. Finally, the Case near left is a second issue, with its side buckles and chapes sewn to the body. From the David Gordon Collection, photograph David Gordon 2009.
Devotees of the BBC TV classic, Dad's Army will have noted Binocular cases (of various sizes, to the eagle-eyed) being used as stand-ins for the correct Pouches, ammunition (Home Guard Pattern). Whilst this was expedient for the Wardrobe Department, it was incorrect. However, the Case was used in a different role, which involved a wooden internal frame, so that the Nos. 1 and 2 optical sights for the 2-inch Mortar could be carried securely.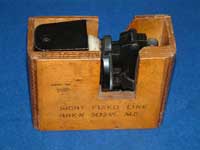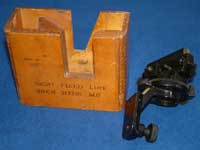 Karkee Web contributors Kevin Groom and Tom Ready have pointed out another use for the Case, into which CM 1146 Frame, Housing Fixed Line Sight, .303-in. Bren M.G., Mark. I  was fitted. This was a wooden box, radiussed to fit the Case, for the sight used in the S.F. (Sustained Fire) role, only when the Bren was on the Mounting, tripod, Bren .303-in. M.G., Mark. I.  On early supplies of Mark I, there was a second tapered dovetail, on the left side of the Receiver, ahead of the drum sight, into which the FLS was fitted.From the collection of Kevin Groom. Photographs © Kevin Groom 2009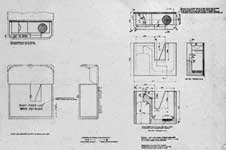 Left - another photo from Kevin Groom's collection, showing the Fixed Line Sight mounted on a Bren. At left, a detail from a fabrication drawing of the Frame and Case.