Stores Ref. CN 8465-99-973-6103 FROG, No. 6.
Cotton webbing; olive drab; 8 in. lg o/a 1.1/4 in. w




This was a surprising discovery, as it was listed in the Detail column of a 1976 C.O.S.A. entry. It was dismissed as the usual Army inaccuracy (in describing the W.E. Patt. '37 Frog No. 6), in that it stated "…olive drab…", a colour also erroneously used to qualify the Patt. '37 W.E. Haversack in the same publication! It was then forgotten. An example was then found, made by M. Wright & Sons in 1979. The question was then "Who and what for?" 
The Belt, working existed at this time, complete with matching CN 8465-99-136-6007 Frog, bayonet, Olive drab with Detail of Plastics (polyethylene) webbing. The belt actually did not exist as a discrete item. It was made up from rolls of webbing, cut-off with a hot blade and married to a Patt. '58 hook-and-loop alloy buckle, with two Keepers in the same polyethylene material. It was an horrendous creation – stiff and not aesthetically pleasing. The Patt. '37 No. 5 Frog was CN 8465-99-973-6102, the O.D. No. 6 being coded -6103, but the polyethylene Frog code is from a different sequence. It is speculated - only that nylon came first and cotton later, perhaps in recognition of how difficult it was to insert the No. 5 Scabbard into it. From the John Bodsworth Collection. Photos © John Bodsworth 2012.
Stores Ref. CN 6520-99-102-XXXX (6?19?2?) POUCH, FIRST AID (Exact nomenclature not yet determined)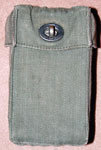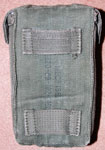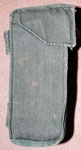 A soldier's First Aid, right back to the Boer War, comprised just a First Field Dressing. With the introduction of drab Service Dress in 1902, a pocket was sewn inside the right skirt corner of the S.D. Jacket. When Battle Dress was introduced in 1938, an external pocket on the right B.D. Trousers' leg contained the same dressing, often of Great War dates too! American soldiers carried a webbing pocket on their accoutrements, which contained a Carlisle Dressing, akin to a First Field Dressing. It fell to the U.S. Marine Corps to provide a larger First aid pouch, containing far more items. In the British Army, the U.S.M.C. approach took rather longer. From the Rog Dennis Collection. Photos © Rog Dennis 2012.
A pocket approximately 6 x 4 x 2-inches, was fitted on its long axis with two narrow webbing loops. These allowed it to be threaded onto the front Yoke straps. Closure was by box-lid flap, with a turn button.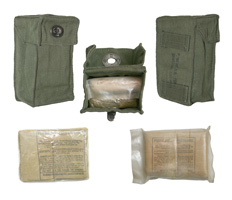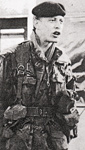 The identification as a First aid pouch is hearsay, but KWRT John Bodsworth has established that two First Field Dressing packages do fit neatly into the pouch, each package containing two dressings. The dressing re-sealed in a polythene bag is dated 1942. Waste not, want not!!
John has speculated that it was a necessary item when NBC clothing was worn. The Pattern 1960 Combat Trousers had an FFD pocket high on the right front leg, as once Battle Dress Trousers had had. NBC clothing was not so equipped and accessing the Combat Trousers' pocket would have been impossible. By carrying FFDs on the Yoke braces, they were once more accessible.
If this explanation holds water, it was from the mid 60s into the 70s, but the size of the FFD was then increased. Also, the thin cotton covering – a method dating back to the Great War – was changed to a rubberised fabric, making the packaging far more robust. As a consequence, the new dressings did not fit the Pouch, which is probably why photographs instead show the dressing black-taped to the Yoke flare. From the John Bodsworth Collection. Photograph © John Bodsworth, 2013.
The photo at right above, from the Rog Dennis Collection, is the only one we've seen that shows this Pouch in use. It's a bit of a puzzle, though, as Rog has only a hard copy on file, and unfortunately no idea where it came from! We can tell it dates from the 70s, as he's in a DPM Combat Smock, but is wearing Lightweight OG trousers. Can any reader provide more information?
The continuing problem is lack of official documentation for medical stores. Can any reader help?
Stores Ref. CN 8465-99-135-7280 SOCKET, RIFLE SUPPORTING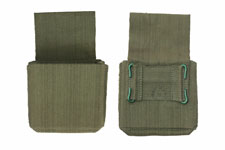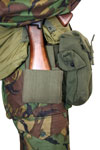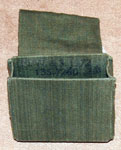 This item appeared very late, being required in Northern Ireland. It was also marked in COSA as an "…MOD controlled…" item. An open-topped pocket, fibre stiffened on front and rear faces, was supported on a dropped belt loop, although a pair of "C" hooks was also located on the back of the Socket. This was worn on the front of the Belt, providing support for the S.L.R. butt, when on patrol, where the rifle was carried very much at the Ready. From the John Bodsworth Collection. Photos © John Bodsworth 2012.
Stores Ref. XX XXXX-99-XXX-XXXX RUNNER, BELT, WITH SNAP HOOK



The COSA Section, NSN Group / Class code and NIIN code are all unknown, as its official nomenclature and purpose. Because it uses a levered snap hook, it is included under Patt. '58 – until we, or you can tell us more! It may be an updated version of the Runner, swivel of a Linesman's belt, to which the issue clasp knife could be attached.
8415-99-132-4007 was a Bag, carrying for the Combat Helmet, N.I. Pattern, but this Runner has been suggested as a means of hanging the Combat-, or Anti-Riot Helmet when not in use, rather than struggle to get it out of a Bag…? This example, made by M.E.Co. in 1978, is from the Jim Harriss Collection. Photographs © Jim Harris, 2013.