Stores Code V2/VB (0270?) Case, map, G.S. No. 1 Mk. I
Stores Code V3/VC 0270 Case, map, G.S. No. 1 Mk. I
Stores Code W10/VC 0270 Case, map, G.S. No. 1 Mk. 1
Stores Code W10/VC 5263 Case, map, G.S. No. 1 Mk. 1, Panels
This was introduced into V.A.O.S. Section V2 Surveying and Drawing Instruments and Watches by LoC § B4097, approved 17 August 1940, which had also introduced Cases, map, G.S., No. 2, Mk. I. Significantly, two Cases were being made obsolescent, one being an A.F.V. Case (Armoured Fighting Vehicle), the Case No. 1 Mk. I  being its replacement. The code is unknown, as this is only Part 1 of the LoCs, which therefore requires Part 3 to confirm that it was 0270. The switch in code prefix, from VB to VC, means a transfer had occurred. At some point, the Case was either transferred, or corrected from Section V2 top V3 Flash Spotting, Sound Ranging and R.A. Survey Stores. However, errors do occur, as witness the Tab, securing, bayonet, which was announced in A.C.I.s as being transferred to Section B2, but in LoCs was Section B1. In the 1956 LoC § C 7422, the Case was listed in V.A.O.S. Section  W10 Compasses, Watches, Survey and Drawing Instruments, which plainly had subsumed Section V2 and part, or all of V3. (See Notes above)
In form, this Case is larger and quite different in construction to the Case No. 2. It consisted of a wide piece of fabric, 17.5 x 32-inches, folded to form a "pocket with flap", which measures approximately 13.5 x 17.5-inches, the flap being approximately 17.5 x 5-inches. The pocket itself is formed by a pair of press fasteners, fitted on each side. The short sides of the centre portion are folded in and stitched at top and bottom, forming shallow side pockets to hold a board and celluloid Panels. A male (spigot) fastener half is secured in both lower corners, so that the pocket "flap" can be fastened down in the half-open position. The flap has loops for chinagraph pencils, with a broader loop and pocket for the Service Protractor.
On the reverse outer face of the Case, an "H" shaped structure in spring steel is riveted through the back. The ends of the uprights of the "H" are rivetted through brass fishplates in each corner of the Case. The fishplates have an extension bent at right angles, then bent again to form "hooks". These can be sprung into corresponding metal loops on the inside of an A.F.V. hatch, to be visible to the vehicle commander when the hatch is opened up. A carrying handle, in ¾-in. webbing, or folded canvas, was stitched on the upper rear face, with a swivelling belt hook free to move on this handle.
Four examples are illustrated, all different and all from the Ed Storey Collection (Photos © Ed Storey 2011). In chronological sequence, for simplicity:-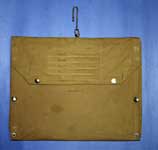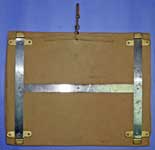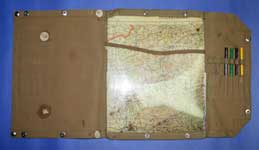 Example A is made of cotton duck / canvas, rather than web. Being contemporaneous with the No. 2 Case, for the present, it is assumed that the No. 1 was made originally of web, this canvas version being a wartime expedient, from a company who made furniture in peacetime, Waring and Gillow, dated 1941. The belt hook is formed and doubled wire, with a swivel attachment. This comprises two wire staples, formed into an arch and mounted on oval bases, which are then loosely riveted to pivot freely. It is marked to a Lt. Col. XXXXXXXX M.B.E., T.D., though the name is illegible.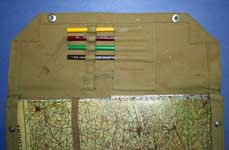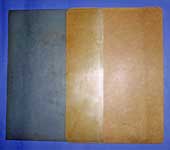 Example A's wooden stiffener and celluloid VC 5263 Panel are here illustrated separately. On the other examples, these two items are missing.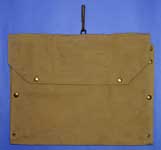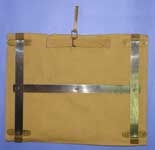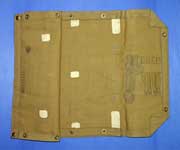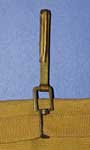 Example B is in khaki webbing and made by M.S.& U. LTD (Montreal Suspender & Umbrella), in 1942. The belt hook is of pressed and formed brass strip and the swivel comprises two loops, of more rectangular form, blanked from brass sheet and pivoted at their mating faces. The details of these swivels are given, as three more designs are described below. Since swivels are a component rarely necessary in webbing products, it is difficult to know what might have been a "standard". Of the four, this one is closest to the techniques normally used for blanked fittings, the others suggesting a nautical origin, but that they might be "T.P.", or Trade Pattern as the Army termed things.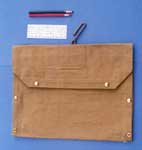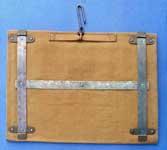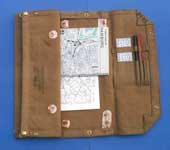 Example C is again of khaki webbing. Made by Z.L. & T LTD (Zephyr Loom & Textile Ltd.), but with a belt hook of formed and doubled brass wire, the end of the hook reaching further down than Hooks A, B and D. The swivel staples are shorter staples and are mounted on circular bases, riveted together. Either side of the maker's markings, an identification is stamped, albeit laid out wrongly to read "CASES, MAP, MK. I Z.L.& T. LTD 1943 NO. 1." where it should have read "CASES, MAP, NO. 1, MK. I  Z.L.& T. LTD 1943." In point of fact, the nomenclature should have included "G.S." as well. In this era, stencilled nomenclatures are rare to non-existent on U.K. items, but not so in Canada. It is also at least a year too early to have had a VC code marked-on.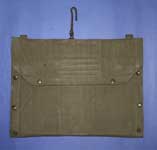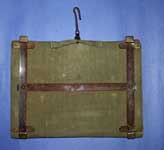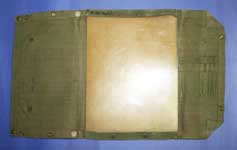 Example D is in green webbing, unfortunately with no maker's name, or date, though the colour would suggest this would have been 1945 as it is also coded. It is again marked – fully - with its nomenclature, "CASES, MAP, G.S. NO. 1, MK. I"  and - most unusually - "V.A.O.S.  V? / VC 0270" is marked on a second line. Whilst codes and their letter prefixes are common, on current observations this is the first to have not only the Section code, but also "V.A.O.S.". The number of the Section is illegible, but should have been V3, to match VC. The colour shows that it was intended as "jungle equipment" and it is typical of the W.O. that the collector was not considered, so that one code 0270 serves for Cases in two colours.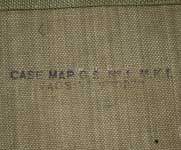 At left, a detail of the unusual nomenclature marking on this Case as noted above.