Web Equipment for Officers (Army)
As is mentioned elsewhere on these pages, there were a large number of various commercial patterns of officers' accoutrements available during and after the Great War. For the most part, these are completely undocumented. We have a few surviving examples, some tantalizing period photos, and an occasional advert from The Times or another periodical. KW have presented below the information that we have. There seems no doubt that there are many other types still to be located. Our readers include the most knowledgeable people in the world in this area - we look to you to add to the body of knowledge.
Note: We've presented the full KW treatment only for Web Equipment, Officers, Experimental, Web Equipment, Infantry Officers, and Web Equipment, Patt. '08, Officers. As for the rest of these types - we've given you what we know. We are depending on your help to flesh them out.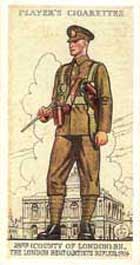 Web Equipment
for Officers (Army):