A Karkee Web Special Feature: Soldiers Three
Landi Kotal, 1935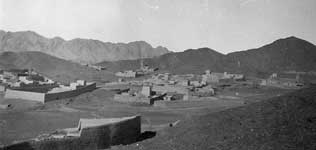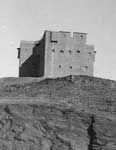 Landi Kotal is located at the top of the Khyber Pass, in what is now Pakistan. Since Victorian times the fortress at this strategic site has been the home of the fabled Khyber Rifles, now part of the Pakistani Forces. During the years of the British Raj, many famous British regiments also served at Landi Kotal. In 1935, it was home to the 2nd Battalion, The Welch Regiment. The photo at left, taken in January of 1935, shows parts of the fort and outbuildings, looking northeast.
As part of the research for our upcoming section on Officers' Webbing and Accoutrements, I recently acquired most of a (sadly incomplete) photo album that had belonged to an officer of the 2nd Welch, and which documented his service at Landi Kotal in 1935-36. As is typical with such items, most of the photos were of the "The Brig before Parade" and "Maud and Eleanor at the Club" variety, but there were a few shots that displayed the 1930's Web Equipment, Officers, to good advantage, and these will eventually appear in the new section.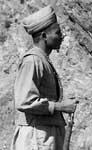 Even more interesting, though, was a series of photographs showing officers and men attired in splendid Victorian uniforms, carrying Long Lees and wearing antique buff leather valise equipment. Even in a backwater of the Empire, this was totally anachronistic for the mid-thirties. After I discussed this with Rog Dennis, we decided that these must be shots from a film. The Army often collaborated with film studios during the thirties, and such epics as Drums, The Four Feathers, Sanders of the River, and many other such celebrations of Empire were made in this way. But which film was it? Both Rog and I are fans of these costume thrillers, but we didn't recognise this material at all.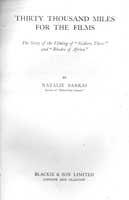 It turned out that the solution was right under my nose. These particular photos were all presented on a series of pages under the heading "Soldiers Three - February 1935". At first glance, the Kipling reference seemed completely in keeping with an album on this subject, and from this time and place, so I didn't really give it much thought. When I was unable to identify the film that we felt had to exist, though, I turned back to the album. A quick internet search on "Soldiers Three" gave me the clue I needed. I located a reference to an article that had appeared in the Historical Journal of Film, Radio and Television, Volume 15, Issue 1, 1995. It was by Jeffrey Richards of Lancaster University, and was titled 'Soldiers Three': the 'lost' Gaumont British imperial epic.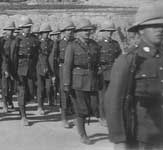 A week or so passed before I was able to get my hands on a copy of the article itself, but when I did everything fell into place. There was a film, but one that had never been completed and released. Gaumont had sent a location filming unit, headed up by director Geoffrey Barkas, to India and to Landi Kotal in 1935. What's more, Mr. Barkas was accompanied by his wife, Natalie, and she had written a book about the trip, entitled THIRTY THOUSAND MILES FOR THE FILMS: The Story of "Soldiers Three" and "Rhodes of Africa", published by Blackie & Son Limited, London and Glasgow, 1937. Back to the internet once again, and a short time later I had my own copy of Mrs. Barkas's story in my hands.1
I found it a fascinating read. The Gaumont crew traveled across India scouting for locations. Cantonment scenes were filmed at Alipore and Fort William, but the majority of the shots, including the climactic battle scenes, were filmed at Landi Kotal. The book even includes a short excerpt from the daily filming's operations orders. To my pleasure, I found that the captions for a few of my photos corresponded with the locations listed in these orders. Mrs. Barkas includes several publicity stills from the film in her book, but the photos from my album are private snapshots, not studio pictures. I'm certain that this is their first publication anywhere, and Karkee Web's readers are the first ones to see them. I've presented these photographs below, with a short explanation of each. For each photo, the titles shown in bold are the original ones written in the album.
John Thorne
30th December, 2009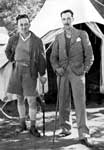 1. I received a very interesting email from KW reader Tracy Stahlberg. Her grandfather, George Stevens, was the principal photographer on the trip. In the photo at left, taken from the book, Jack Parry is on the left, and George Stevens at right. Interesting that these two apparently unrelated threads should cross a second time. Tracey pointed out that her grandfather had an impressive body of work with Gaumont and Pathé. If you visit the BritishPathé website and search on 'George Stevens", you will find several clips of his work, and at least one short view of him behind the camera. Now, Tracey - where's that scrapbook of photos that he surely took on this trip?
John Thorne
19th March 2011