Stores Ref. A1/AA 0563 Carriers, cartridge, W.E. Patt. 37
Stores Ref. CN/AA 0563 Web Equipment, Patt. '37, Carriers, cartridge
Pattern 1937 was intended as an All-Arms pattern, with sufficient components to make up permutations for any requirement. However, it was not recognised that there were non-infantry, e.g. mortar crews, armed with rifles, who did not need the ammunition carrying capacity of a Basic Pouch. When this was realised, the Cartridge carrier was added, and List of Changes entry §B1623 of June 1938 includes them. The design here was not new, having been used in Web Equipment, Royal Artillery. Even with that Pattern, the design was simply something that had been lifted from Patt. '08, as it was derived from the top tier of a 75 round Cartridge carrier. Each pocket was modified to be integrally woven with only one internal division. Thus each Carrier was for 20 rounds in chargers, with two spigot halves of a press fastener, allowing two positions of closure. To effect an anchor point for the Braces, each was provided with an integral Brace attachment, which differed from the separate item in having a Link, oval, 1-in. in place of the Link, rectangular. This was because it was not required to function as an anchor point for a second pouch mounted above.
Just over three years later, A.C.I. 1891/1941 directed that the Carriers were obsolescent. Army Form G1098, which covered scales of issue for different units, was to be modified: units scaled for Cartridge carriers were in future to be listed for either for Carriers, cartridge, or Pouches, basic, but not both. Units going overseas were only to have Pouches, basic. L. of C. §B5282 was approved in July 1941, notifying this change in status. Another year passed then, in June 1942, A.C.I. 1052/1942 re-introduced the Carriers, with L. of C. B 6365 reflecting its new status. In future, Royal Army Service Corps (R.A.S.C.) field units would be equipped with Carriers, except their Bren Gun teams, who naturally required their Basic pouches. In addition, Carriers would be issued to all M.T. drivers, of arms other than R.A.S.C., together with drivers of carriers and armoured Observation Posts. Though not mentioned, the assumption has to be that "sitting" personnel would be more comfortable.
Another year and another change: A.C.I.1049/1944 widened the scale of issue to all with rifles in the R.A.S.C. field force units (except Bren numbers), all M.T. drivers of all mechanical vehicles, together with Infantry A.T. and 3-inch mortar crews, also Vickers M.G. platoons.
Examples will be encountered of Cartridge carriers, manufactured in the 1950s, but without the integral Brace attachment. The writer has only just learned that – despite the CN stores codes - they were not intended for the British Army, but for the Irish Army! This is a pity, as an alternative possibility had existed. After the North African campaign had concluded, an equipment survey was conducted. In the resulting report, it was observed that mixed loads in Basic pouches were being damaged, e.g. No. 36 grenades were denting Sten Gun magazines. It was therefore recommended that Cartridge carriers, on the lines of Patt. '08, could be mounted to the rear of the Basic pouch. These modified Cartridge carriers seemed to fit the bill, albeit rather late in the day, as a new Web Equipment was already under trial in the mid-50s.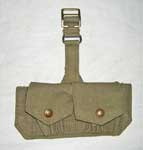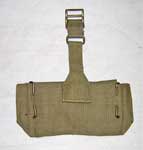 A typical example of the Carrier, cartridge, W.E. Patt. 37. It is maker marked "M.E. Co." and dated 1942.