Web Equipment, Infantry Officers
Fitting Instructions
Mills Equipment Company Broadside Poster
As with the Great War pattern, none are known. It is inconceivable that Mills did not provide some literature to go with their sales. A standard-form Mills instructional poster was produced, presumably for framing somewhere in the Officers' Mess. It was simply entitled OFFICERS' EQUIPMENT. Unfortunately, we don't have a good photograph of this poster. Do you have one in your collection, that you can photograph for us?
Mills Equipment Company Catalogue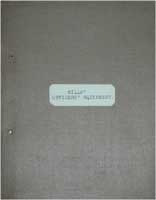 These photos, taken from a 1919 M.E. Co. catalogue labelled Mills' Officers' Equipment, in the archives of the old Pattern Room, and were supplied to Karkee Web by Tom Ready. Unfortunately, the archive included only these pictures, and not the text. In the absence of any available Fitting Instructions, these photographs, even without text, provide a detailed reference showing how Mills intended the equipment to be assembled and worn. As usual, this document is presented as a PDF file. You'll need to use your browser's back button to return here after accessing it.