Web Equipment, Infantry Officers
Equipment Carriers
As with the 1916 pattern, the weave pattern of Mills Equipment for Officers was fine, involving singled warp threads, rather than the usual doubled threads.
CARRIER, WATER BOTTLE (for Mark VI bottle)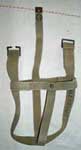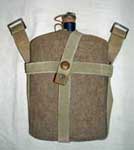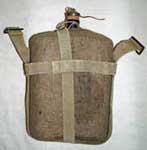 No change was made, the 1916 design continuing in use. The framework, or skeleton Carrier, in 1- and ¾-inch web strapping had buckles to connect to the Brace ends, unlike the R.A.F. version of W.E.O.. This Carrier was designed for the Bottle, water, enamelled, Mark VI, the issue bottle for Ordinary Ranks and used in their Patt. '08 W.E.. The example of the Carrier, water bottle, shown left is from the Karkee Web Collection, and is maker marked "M.E. Co." and dated 1923.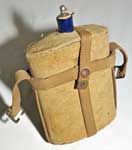 Up-market versions of the Mark VI have been noted, often with a maker's name stamped on the metal disc top of the cork stopper. The overall finish was made more de luxe, with a fine weave felt Cover. An example of just such a Private Purchase Mk. VI Water bottle is shown left, from the Paul Hannon Collection. The Carrier shown with it is from Paul's 1917 dated set of Web Equipment, Officers, Experimental. Photograph © Paul Hannon 2010.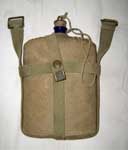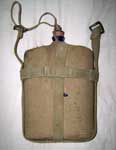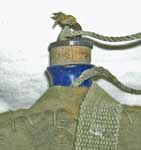 Another, and even fancier version of the Private Purchase Mk. VI Water bottle. Note the unusual flared neck, reminiscent of the turn-of-the-century Bottle, water, enamelled, Mark V. From the Chris Pollendine Collection, this Bottle is shown in a M.E. Co. marked W.E.I.O. Carrier, water bottle, dated 1936. Photographs © Chris Pollendine 2010.
CARRIER, WATER BOTTLE (for Indian Pattern bottle)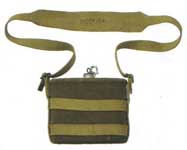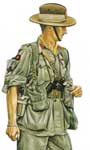 Use of the Mark VI bottle flew in the face of the 1900 Dress Regulations, which had only authorised an aluminium bottle, of the form known as Indian Pattern, or I.P. Many officers would have purchased this and Mills therefore offered a different Carrier, sized for the shorter, more squat I.P. bottle. With two exceptions, all the web carriers noted, for the I.P. bottle, have been with dog clips. The first exception is a painting of Brig. Denham Young, 5th Indian Division, painted from the photograph by Malcolm McGregor. Shown at right, this painting is from The Armed Forces of World War II. Uniforms, insignia and organisation by Andrew Mollo (Orbis Publishing, 1981). This resembles the skeleton construction of Patt. '19, but differently proportioned, but with 1-inch buckles. The second, shown left, is of "cradle" form, with upper and lower bands and a 1-inch strap around the sides and base and fitted with buckles. The standard of finish and construction suggest that it is a "user-mod" and not a Mills' product. So, readers, what can you produce, marked up to M.E.Co.?