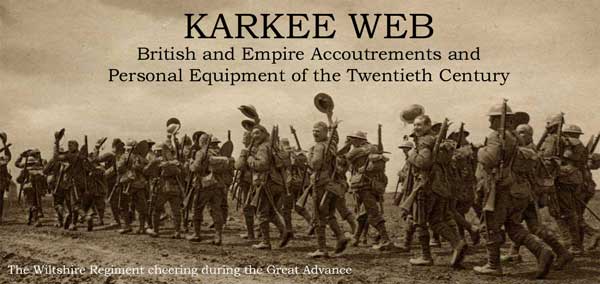 We have a winner!
Err... well, it seems we have two winners. To our surprise, our readers spotted not only the error we knew, but at least one other as well. In self defence (in other words, before you lot find another!) we are declaring a winner and closing the contest. Chris Pollendine was the first to report the blunder we had already noticed - the right Brace is incorrectly attached to the Ammunition bag. Barry O'Sullivan spotted something else, though - the Water bottle is a Mk. VII instead of, as would be more appropriate, a Mk. V or Mk. VI. We could quibble over that, since the Mk. VII was introduced in 1939, and Patt. '01 was in service at least as late as 1943, but we won't. Congratulations to you both, Chris and Barry! For some reason, neither winner was particularly interested in coughing up delivery charges for our prize, so as an alternative we've decided to plug their latest books. Chris Pollendine's Campaign 1914 (Vol. I): Uniforms & Equipment of the British Soldier in the First World War is available from Military Mode Publishing, as well as from retailers such as Amazon. Barry and Matthew O'Sullivan's New Zealand Army: Personal Equipment 1910 - 1945 (a companion to their New Zealand Army: Uniforms and Clothing 1910 - 1945) is available from Willsonscott Publishing, and again from retailers. UPDATE! Barry has informed us that he has a new book out: The New Zealand Expeditionary Force in World War II by Barry O'Sullivan and Wayne Stack, illustrated by Mike Chappell, Men at Arms # 486, from Osprey Publishing.
A few readers also pointed out that the Haversack and Mess tin in Cover were missing. We knew that, of course - neither Graham nor Grant have yet found those items for their collections. We felt that we covered those omissions, though, when we commented that this was a partial set (albeit the most complete one we've yet seen). One reader also thought that the Water bottle carrier wasn't the correct type, commenting that it wasn't clipped to the Belt. In fact, the Carrier is a proper Patt. '01 Mk. II, but over the years the leather has hardened and cracked, and the belt clip has been lost. For the same reason, although the Carrier's shoulder strap is technically on backwards, it's too fragile to adjust.
The previous Set Display photos have been replaced and this time the Brace is assembled correctly. Barry's comment about the Water bottle came too late for it to be corrected this time around, but we'll note it for a future revision.
There's more to come soon. The most recent section we've added, on Japanese Pattern Equipment, has had the hoped for result of bringing us new information and photos. A major revamp of that section is in the works and should be up soon. In addition, we're working through a large backlog of your upgrades, additions, and submissions on a variety of subjects. Last year was a busy one and we weren't always able to spend as much time on Karkee Web as we wished. With luck, we'll be able to do some catching up in the next few months.
Is there a British or Empire equipment pattern you would like to see covered in Karkee Web, or one on which you have special expertise? Why not write it up for Karkee Web? Contact us with your ideas, and let's see what we can do together.
Karkee Web is a collaborative effort that depends heavily on the comments and contributions of our readers. We have been up and running for five years now, and in that time we've grown far beyond what we had originally envisaged, thanks to input from collectors and scholars all over the world. We want and need your input. If you have information, photographs, or other data that you'd like to share, or if you have comments, questions or suggestions, please contact us at Webmaster.