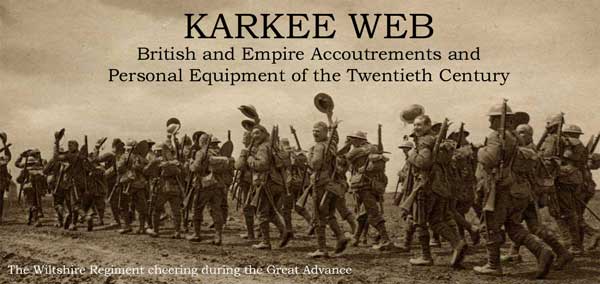 New today! We've added a very short section on a little-known pattern - Japanese "J" Pattern Equipment. This leather equipment was used in training with the Arisaka rifle during the early part of the Great War. Not much is really known about its use in British service, but KW Research Team Leader Rog Dennis, together with Graham Tweedale and Chris Pollendine, have pooled our knowledge and written a new section for Karkee Web. We are asking for your help on this one - we need current photos of surviving examples, and period photos showing the pattern in use. Can you help?
Is there a British or Empire equipment pattern you would like to see covered in Karkee Web, or one on which you have special expertise? Why not write it up for Karkee Web? Contact us with your ideas, and let's see what we can do together.
Karkee Web is a collaborative effort that depends heavily on the comments and contributions of our readers. We have been up and running for over five years now, and in that time we've grown far beyond what we had originally envisaged, thanks to input from collectors and scholars all over the world. We want and need your input. If you have information, photographs, or other data that you'd like to share, or if you have comments, questions or suggestions, please contact us at Webmaster.